Posts Tagged 'battery'
This release of Power Meter Plus – the popular replacement for the standard Windows power meter – adds 4 new features/settings. These have been added after feedback from users.. a lot after it was featured on Lifehacker.com and in PC Pro magazine :)
The features/settings now available are:
Hide the meter instead of switching sides.. it then fades back a few moments later
Change the transparency level of the message that appears across the screen for certain warnings
Flash the warning message (optional)
Start the meter on the right of the screen (which is where it will stay if you set it not to move sides)
Click here for the Power Meter Plus download page.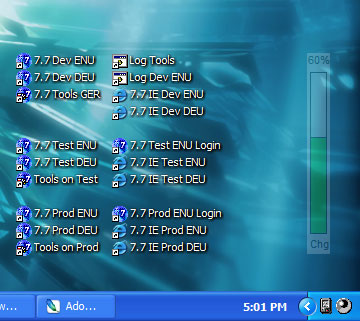 The Canon HF100 is a great HD camcorder, and I'd really recommend it, especially for the price. You probably want a spare battery to go with it, but be careful which battery you choose. In their "wisdom" Canon has put a stranglehold on the 3rd party battery market by making the camcorder *very* picky about the voltage tolerances when charging a battery that's attached to the camcorder.
The one I tried from this company would power the camcorder, but just refused to be charged. The camcorder LED blinked quickly, indicating there was a problem with the battery.
Watch out for sites like B2C Shopping; in their terms and conditions they've got clause which says they won't pay your return postage costs… even if the reason for your return isn't your fault! Their product description categorically says the battery is 100% compatible with the HF10/HF100.. but it isn't! They eventually refunded the item cost, but none of the postage costs I incurred sending the incompatible product back!
I've seen on eBay that any non-Canon batteries for the HF10/HF100 come with their own charger.. getting around the problem of the camcorder refusing to charge these 3rd party batteries. Even when you do buy one of these, the batteries aren't "intelligent" like the official Canon batteries.. which means each time you switch it on, the camcorder will tell you it can't communicate with the battery & is that okay. Very annoying.